Anethum graveolens (Dill Seed) aromatic water 1L
Product Code:
awa0311

Product Availability:
Out of stock
Please
log in or register
to see products and prices. This site is for Health care Professionals only.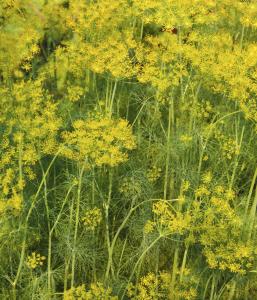 ---
Product Details
Anethum graveolens, Peucedanum graveolens
Common name:
Dill, from the Norse dylla meaning to soothe
Family:
Apiaceae
Botany:
An annual herb growing up to 1 metre with feathery leaves and umbels of yellow flowers. It is widely cultivated through out Europe.
Parts used:
The seeds are most commonly used for medicine. The leaves and flowers are used in cooking as well as the seeds.
Harvesting, cultivation and habitat:
Grown from seed planted in the spring. The leaves and flowers are harvested throughout the summer and the seeds are harvested in the late summer or early autumn.
History/folklore/taste/energetics:
Widely used in Scandinavian cooking especially with fish and pickles. Also in German and Eastern European cooking and pickles. Used as a charm against witchcraft in the Middle Ages and burned to clear thunder clouds Aromatic, warming
Constituents
Up to 5% essential oil, 50% carvone, 50% alpha phellandrene., Flavonoids, Coumarins, Xanthones, Triterpenes
Actions
Carminative, Expectorant, Diuretic, Antispasmodic
Traditional and current uses
Mainly used for colic and flatulent pain in infants.
With antispasmodics for period pain
Increases milk when nursing
Used in cold and flu remedies and for coughs
Used in pain killing mixtures by the ancient Egyptians – possibly the xanthones
Cucumber fresh pickle
Thinly slice one cucumber, cover in cider vinegar and add plenty of freshly chopped dill.
Back