Matricaria recutita L. (German Chamomile Flowers) Aromatic Water 500ml
Product Code:
awm0082

Product Availability:
Out of stock
Please
log in or register
to see products and prices. This site is for Health care Professionals only.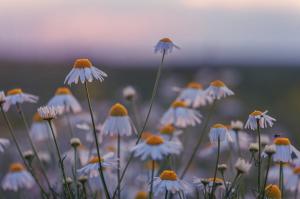 ---
Product Details
Matricaria recutita
Common Name:
German Chamomile
Family:
Asteraceae
Botanical description:
Annual growing up to 50 cm. Flowers white, daisy-like, with finely divided foliage. Roman chamomile (
Anthemis nobilis / Chamamelum nobile
) is a close relative, which looks and smells similar, but is an annual. It can be used in similar ways.
Part used:
Flowers
Harvesting, cultivation and habitat:
Flowers harvested when just opened in the summer. Grows wild and is cultivated throughout Europe and in other temperate zones. Propagated from seed sown in spring or autumn.
History, folklore, taste/energetics:
The name
Matricaria
refers to an affinity to the womb or to the mother. It is certainly a useful herb for women. It is also a motherly herb that soothes many childhood complaints and helps those who are fretful to sleep more easily and feel less anxious. The flowers are used to flavour manzanilla sherry and it is a gentle bitter that helps digestion, especially after eating too much or eating the wrong foods; Peter Rabbit's mother gave him chamomile tea when he had gorged himself on Mr. McGregor's vegetables
.
Bitter, aromatic, warm, moist.
Constituents:
Essential oil
,
Flavonoids (anthemidin, luteolin, rutin)
,
Bitter glycosides (anthemic acid)
,
Coumarins
,
Tannins
Actions:
Anti-inflammatory
Antispasmodic
Relaxant
Carminative
Mild bitter
Anti-allergic
Anti-emetic
Traditional and current uses:
Dyspepsia and flatulence, especially with stress
Vomiting in pregnancy
Colic and digestive problems in children
Acidity and gastritis
Hiatus hernia
Crohn's disease
IBS
Peptic ulcer
Aids sleep and relieves irritability
Bedwetting
Contains spiroether, a strong antispasmodic, relaxes tense acing muscles and eases period pain
Hayfever and asthma. Also, externally for sore itchy skin and eczema.
Swollen, itchy eyes – compresses made from infused tea bags. Also as compresses for skin ulcers
Baths for itchy skin
Teething
Lightening fair hair
Fresh flower heads yield an extremely bitter infusion - use sparingly.
Back